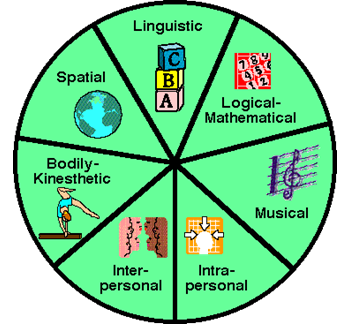 Howard Gardner proposed the theory of multiple intelligences in 1983. He proposed spatial, linguistic, logical-mathematical, bodily-kinesthetic, musical, interpersonal, and  intra-personal intelligent types. This idea is very attractive due to the suggestion that every one can be smart in one way. But many, especially psychologists criticize it for its lack of empirical evidence. They support the prevailing theory of general intelligence.  They argue that thousands of studies support the importance of intelligence quotient (IQ) in predicting school and job performance, and numerous other life outcomes.
But as a teacher I would like to see if I can apply the theory of multiple intelligences in a holistic way, not to pigeon hole people, but to see if they can be helped in a new way to learn what looks difficult to them. So what would you say is your intelligence type? Answer this question in MS Academy Facebook page here. http://www.facebook.com/questions/501593349883021/
Add comments if you don't want to pick an answer. Share it with friends. Let us see how is pans out. BTW when you are in the page, 'Like' the MS Academy page.

best pmp training in chennai
,
howard gardner
,
MS Academy
,
multiple intelligence
Share