Inspired by the Plan Do Check Act cycle for continual improvement, I came up with this continuous self-improvement cycle.
Listen – The biggest impediment to learning and development is lack of listening skills. To learn new things, one should be always curious like a child and non-judgmental. By Listen I mean all forms of observation with inquisitiveness. If you want to loose weight, you should see fit people and get inspired. Ask them questions and listen. Make note of their habits which are different from yours.
Learn – Learning is a relatively permanent change in behaviour that comes from practice and experience. It is not a natural phenomenon. One should know his / her learning style and the learning goal and make an effort to learn. Going back to the loosing weight example, one can learn to take a morning walk.
Reflect – Not all learning is good for you. For example, learning to drink beer will not help you with the goal of loosing weight. Think of life as a journey and the destinations you want to reach. Using that allegory, arrive at your long-term and short term goals. Reflect on how the new learning will help you with your goals and overall direction of you life.
Reform – If you find that the new learning really makes you happy, (not instant gratification or pleasure but happiness) strive to make it a habit. Make changes in all other practices to help you sustain the new learning and make it a habit. For example, go to bed early if you are trying to learn morning walk. Research on which restaurants will be open so that you can have donuts at the end of your walk. That is a joke. Learn which treadmill will help you stay with the habit even in inclement weather.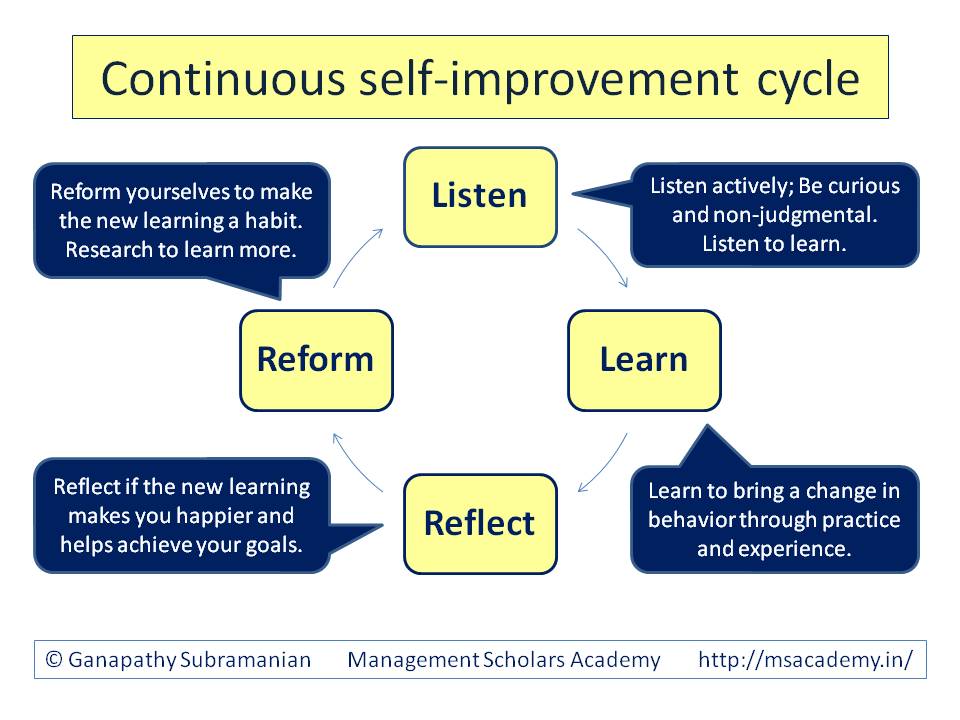 continuous self improvement cycle
,
ganapathy ms academy
,
MS Academy
Share