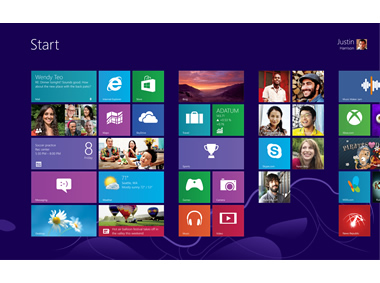 I upgraded the OS in my Samsumg laptop to Windows 8 Pro last week. I thought I can share my review of the product here with you. First of all it is reasonably priced at 2000 Rs and can be bought over net with a credit card. I downloaded the 2 GB install file, copied it to a USB and installed it without much trouble.
The major difference is the start screen. It is now a set of tiles on screens that slide, like in touch phones. You can add applications, rearrange the tiles etc. the OS is designed for tablets. So if you are using Win 8 in a non touch (like a laptop in my case) You should know the keyboard shortcuts from the metro start page. Then it becomes much more easy. The following shortcuts are very handy.
Windows logo key 

 + B – Taskbar on desktop
Windows logo key 

 + E – Explorer
Windows logo key 

 + I – Settings (control panel)
Windows logo key 

+start typing – Search the PC for what is typed – This is amazing
Windows logo key 

+PgUp – Move the start screen on the left
Windows logo key 

+Pgdown – Move the start screen on the right
> Liked the personalize options. The decoration behind the start page, windows desktop themes etc can be changed.
> Kids could easily create their own accounts. I get a weekly report on their usage with parental controls.
> Picture password is fun. With picture password, I can sign in by tracing a pattern on a picture of my choice instead of typing a password. Three taps on my boy's nose is not the password.
> It offers to get all my mails and people from start page. But somehow I feel that if I want to meet friends in skype or facebook or orkut, I will go to those sites instead of all in one place. Same with the case of emails.
Overall happy. There is a slight learning curve for doing the advanced stuff. Bust basic things are easier now. So if you are looking to upgrade go for Windows 8 Pro.

pmp training chennai
,
windows 8 review
Share