Save Paper Save Trees Save Earth. Please don't print this e-mail unless you really need to.
Some of you could have noticed this sentence in our email signature. But we were printing at least a 1000 sheets to administer tests in our PMP training program every month. We wanted to go green and so we explored options to conduct our PMP baseline tests online. Some of our students suggested moodle !Lo and behold! we have an MS Academy PMP Question bank online.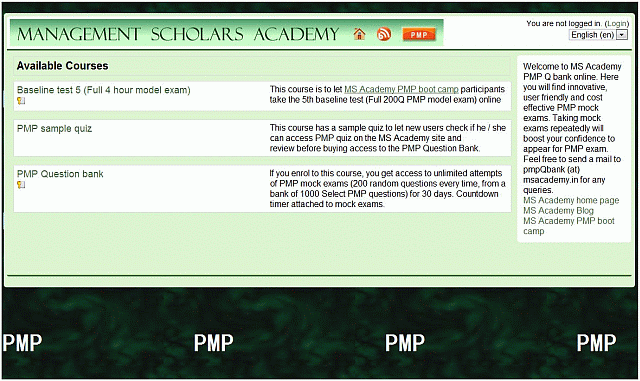 Go ahead and create an ID and try the sample quiz. Every time you attempt, you will get a different set of questions, order of questions will be shuffled and even the answer choices will be shuffled.
Online Q bank has lot of advantages. Participants can take the tests at their convenient place and time. They get to see explanation for all 200 questions. We can conduct full 36 hours of training itself and so on.
I have created another 1000Q bank with same featues that I plan to give access for a small fee.

best pmp training in chennai
,
ms academy online pmp question bank
,
ms academy pmp training
,
pmp certification chennai
,
pmp chennai
,
pmp question bank
Share
Comments