In the first post , we saw ' what is Mind Mapping ' all about. In this post, let us look try to answer 'Why Mind Map ?'
There are different ways of note taking  – descriptive, diagrams, using bullet points, context diagrams; each one of them has their own merits and could be used based on the situation one is in.
But think of a technique which could help to capture your ideas as you think and present it back in a way which is – simple, powerful and succint. That is where 'Mind Mapping 'scores. Research shows that Mind Maps increase our thinking ability and act as an effective tool for  better decision making. Below Mind Map is a summary to communicate the message : 'Why Mind Map'?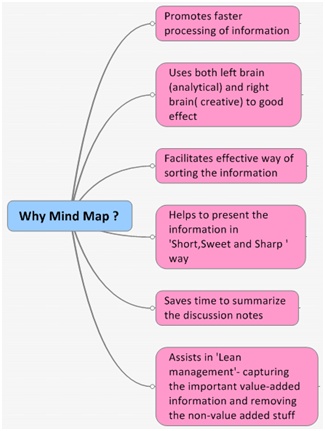 In the subsequent posts, we will look into the aspect of 'How to Mind Map' ?
Contributed by
Balaji O.S
http://in.linkedin.com/in/balajios
Editor – Resonance Newsletter

mind map
,
mind map and PMBoK
,
mind mapping examples
,
mind mapping made easy
,
O.S.Balaji
Share