O.S.Balaji is the Engagement Manager – ANZ region for Wipro Technologies. He is a management consultant with wide knowledge in CMMi, PMBoK, Prince 2, Six Sigma et al. He is an active blogger and the editor of "Resonance" an e-magazine that strikes a chord with thousands of IT professionals in India. Balaji has agreed to write a series on mind mapping that he uses extensively in his magazine to explain concepts.
Today we live in times of information overload.'Googling out' is the trend for IT professionals to get a quick grasp of any subject.  While the latest technologies have made the information available within our reach, researchers feel the humans are losing the retention power and never spend time to really appreciate the subjects in depth.
This is what I would call as 'Fast- Food Learning'! Though it is convenient at times it cannot replace the experience of a fine dining where you take time to taste the recipes and really appreciate the cuisine.
To break this trend of 'Fast-Food Learning 'we need to tune our brain to absorb and retain things in a better perspective. This is where technique called Mind Mapping comes in handy.
Mind Mapping is a technique which works on the principle that every topic in any facet of life works on patterns and linkages. If one could map the association between the various topics it helps to get registered in the brain better and for long duration.
This is also a powerful technique which connects one's right and left brain. One could see Mind Maps used very extensively as learning aids. I have been using Mind Maps for nearly five to six years and I find it very helpful to communicate the message to wider audience in a succinct way.
One could use Mind Maps for – recording Minutes of Meeting, product info, status report, notes on subject, summary of books, capture gist of a research, tell your bio-data. The list is endless and it is left to one's creativity to use the Mind Maps.
Some sample Mind Maps: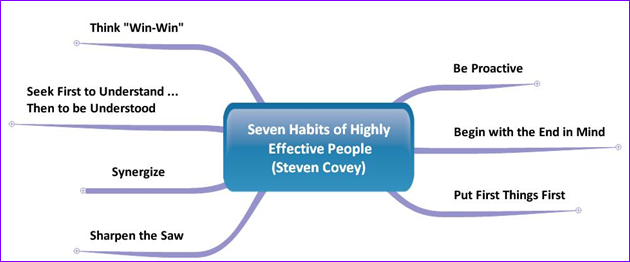 Concept Source: Seven Habits of Highly Effective People, Steven Covey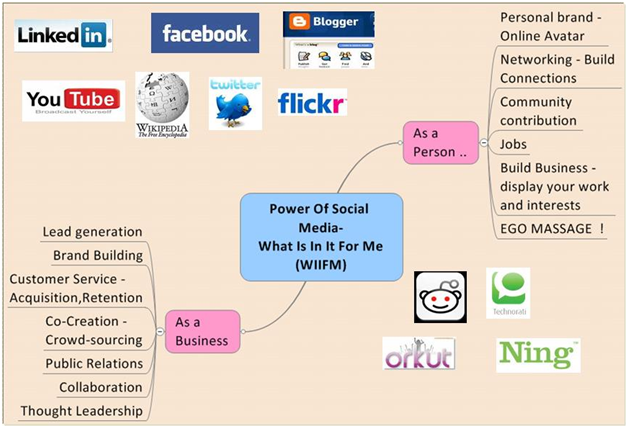 Source:  Presentation on Social Media by Balaji O.S
In the subsequent posts, we will look into more details on how to construct and structure Mind Maps.
Contributed by
Balaji O.S
http://in.linkedin.com/in/balajios
Editor – Resonance Newsletter