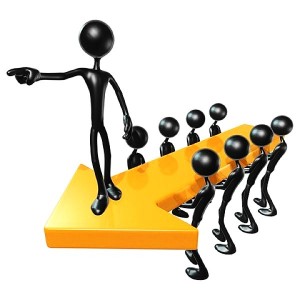 David Kershaw, founder and CTO at eVisioner has shared some wonderful insights on leadership, organization and optimism. Don't miss this one. Thank you David.
I work with people who teach folks how to lead both, professionally and by example.  I also have the good luck to rub elbows with many individuals who help people learn how to organize.  Leading and organizing are both very important skills, particularly for project managers. Talking to professors of leadership and governance makes me an optimist who believes that learning to apply organization and leadership skills can overcome the odds of failure.  Along with optimism, that belief is also quite high on the list for project managers.
When you hang around with project managers you see that some use their optimism to lean towards being what you might call natural leaders.  Others lean towards being good organizers.  In my experience, the rarer thing is people who are passionate leaders about organization.  There is a subtle shade of difference between a guy simply beating a drum about organization in a meeting of project mangers, and someone who shows real leadership to their peers by example, in the way that they organize their own team.  Show me that second person who makes other leaders aspire to be better organizers, and I'll show you someone a) with a talent for leading indirectly and b) a person you should take to lunch because they're on their way up.
Getting an organization to grow and perform is an exercise in combining leadership, organization and optimism.  Again, speaking from personal experience, I think it is straightforward to find companies and business units with great leaders who are not so great at organization.  That's probably why COOs were invented.  But as a project manager, you don't have the luxury of hiring a Project COO.  And for most of us who don't have a strong PMO, or a peer who is passionate about organization to lean on, it puts us in the position of needing to learn to be good organizers, including providing good governance of our team, as well as inspirational and optimistic leadership. That's a tall order!
When I've had the privilege to work with new project managers who have to fill this order for the first time, I've suggested that they work hard on the organization part first because that will give them the confidence in planning for what they do know, and the optimism to believe their team can overcome obstacles they don't know yet.  Getting roles, responsibilities and decision-making sorted out may seem far from inspirational, but you'd be surprised.  And, frankly, short of a crystal ball, for project visibility that confidence and optimism is often about as good as it gets.  Once your team believes that it's well organized, leadership becomes a whole lot simpler and a lot less like magic or a genetic blessing.
The PMBOK examines team organization in a few areas, in particular Project Integration Management's Project Charter, all of Project Human Resources Management, and much of Project Communications Management.  These are critical areas to nail down early, before you bust out the Gantt charts and start scheduling.  Unfortunately there are few tools to support you in team governance activities in the way that MS Project supports you in scheduling, but this is slowly changing as people wake up to idea the an organized team gives off confidence, optimism and leadership like a dynamo.
My advice?  Three things.  1. Pay attention to the knowledge areas that teach organization, 2. look for tools that will support your team's governance, and 3. hang around experts in the areas of leadership and organization. Do those three and you'll become an optimist too.
Founder & CTO
eVisioner Incorporated
MetaTeam :: Revolutionizing The Way Teams Work!

David Kershaw
,
eVisioner
,
evisioner metateam
,
leader vs manager
,
team organization
Share
Comments