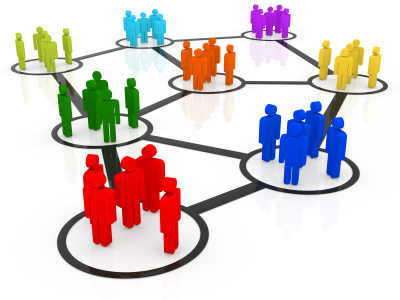 Sometime in 2004-05, I got a chance to meet one of the Senior Vice Presidents from Netherlands of the Bank I was working for when he came down to India. First ever one on one session with a senior person in the Organization and he came up with few questions to understand how we operate on the floor for a global migration project.  When I informed him the process, he sounded surprised saying that he was not aware that we have been doing so much of efforts in the back end.   I felt disappointed and I asked him, whose fault?   He was frank enough to tell me, that he never heard my name nor the process I was talking about and said, it is a big question of visibility.   And where was the gap-  Communication!
Not that we communicate to the 4 levels up in the organziation on what we do every time, but there should be a mechanism that translates the progress, performance, process and profitability of every entity in the organization.    This is a pool of information that makes much bigger sense to the people who take strategic decisions.  Why is this important?  How challenging is this?  Is it a blessing for Organizations to be so transparent?  Questionable!  Agree.  Same time, the answer is a BIG YES.
Communication in Projects: A very vital ingrediant of any project to be successful.  90% of PM's time is spent on the communications, in terms of project progress, weekly status report, review meetings,, stakeholders communication, senior management reviews, team motivations, resource augumentations, internal review meetings and audits.   Communication has to be precise, effective and correct.  None of have time to read lengthy mails that give whole descriptions every time.  Communication should be crisp, brief and appropriate detail, contain actionable response and set a timeline if needed.  Email ethiquette is very important to be understood by every team member.  Escalation procedures to be laid out so that we all know whom to contact in which business scenario.   A bi-weekly dashboard on what is the status can be updated in a snapshot highlighting what is the best done, what are the areas that need attention and so on.   This gives the management in higher hierarchy a quick understanding of what is happening in the Projects.
Communication to Stakeholders: This is another important aspect in any business.  For example, I am expected to do a product delivery on Monday, which is a input to another dependent project starting on wednesday.  I have my product delivery scheduled for Monday getting delayed by a week.  And I stay silent till Monday to inform the same to the client.  This triggers the delay of the dependent project which I may not have control or cannot delay.  What happens, projects turn red, resulting in client dissatisfaction and loss of future business opportunties.  Had I known in advance, or the minute I know about a delay, it is important to communicate the same in a most diplomatic way possible to all impactable parties in the Project.  Any kind of hesitation to deliver a bad news may result in worse business situations.  Delivering bad news in a very appropriate and understandable way with specifics and justifications will make people co-operative.  Silence is never a solution and such loss of communication will not only result in a delicate situation to all, but may result in contractual obligations.
Communication to team members: Many a time, managers concentrate on Project communication, and hardly give a ear to the team members.  This builds an unseen layer of team demotivation, lacking a sense of belongingness and result in a growing fear of insecurity.  This disturbs the focus of individual team members in the tasks assigned.   Some grave situations may result in a kind of false propoganda, uncertainity and wrong expectations.  Grapevine is healthy but same time negative grapevine will hinder the whole project progress without even managers realizing it.  I used to spend last 5 mins of my usual business day in the bank, meeting up informally with the team.  Pick one person and speak to them on how they are doing.  This used to help not only gain their confidence and trust, realise the impacts of some situations, but also give me information that otherwise would never be known.  Also it is very important to be approachable.  A little bit of understanding and showing empathy would make a drastic difference on how team members respond to Manager's call.  This not only bonds the team work, but also strengthens in their dedication to work.  Coffee talks, skip level meetings, open forums, surveys form a platform to provide genuine feedback and will help people feel related to the organizations.
Communication to people outside projects: In the open world today, nothing is any longer personal.  Casual exchange of information in cafetaria, coffee shops and lunches give away lot of information that is confidential without even anyone getting concerned about the Intellectual Property rights.   Sharing information protocals should be clearly defined and communicated.  Managers should guide the teams on what information can be shared and what should not be.  For example, a manager trusts you and gives you information on the employees salaries to do a marco for him on an excel.  If you goahead, and share that information without any concern to outsiders and feel great as if you are having privilege of information that others dont have, it is not only unethical but violation of the confidentiality that has been entrusted upon you.  Information that is published, that would not have a financial or moral impact on the projects, information that is healthy to be shared can be shared.  But it is always important for Project Managers to make the team members understand the criticality of business they are involved in.   Or else, this simple common sense judgement failures may result in integrity issues of the Organizations.
Communication of good and bad:  Good things are always shared with pomp and pleasure any where.  Be it a Project success, a blue flag, a good customer satisfaction survey, on time completion of work and any similar success story.  Same time, people hesitate to deliver bad news… like delay in projects, technical non-feasibility of a requirement, infrastructure delays and failure,  increased cost overruns, an employee's mis-behaviour and violation of standards of business conduct.   This may ease the situation for a while, but will have dire consequences if done.  So it is always advisable to communicate the bad news appropriately and on time.  If stringent actions to be taken, it has to be taken.  Any kind of delay may only impact the whole business progress.  Diplomatic and simple way of communication in such situations will help.   Especially while communicating appraisal results, promotion lists, severences if any, close of contracts, loss of jobs or memo's have to communicated keeping the other person's emotional balance in mind too, for after all, its people who make projects fail or succeed.   Instead of giving too much of talking and explanation, it is appropriate to be specific and backed by any kind of objective evidence that can substantiate the decision of communication will always be appreciated by all concerned.
Hence, we can conclude that though communication in larger picture looks like a challenge, it is very important to understand its significance.  At all times, effective and ontime communication will become a blessing to any project or a  program and its success.
Umasree Raghunath, PMP is a senior analyst at HP best shore application services. A prolific writer, She keeps a great blog at www.umasreeraghunath.blogspot.com

MS Academy
,
project communication
,
umasree raghunath
Share