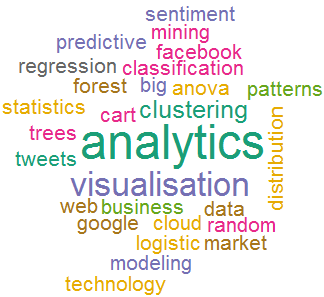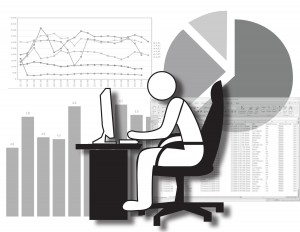 Date and Venue

Customer Speak

Course Fee

FREE Analytics orientation

Instructor-led online virtual
classroom for 18 days from
23rd Oct '15 to 10th Nov '15.
7:30 AM to 9:00 AM IST
(9:00 PM to 10:30 PM EST) on weekdays & 6:30 PM to 9:30 PM IST (8:00 AM to 11:00 AM EST) on weekends

We have had PMs from almost
all IT companies in Chennai
and many core sector companies
in our training programs. You can see their review comments here.
Participants' Feedback

Do you have questions about our
Analytics program? Contact
Karthik the trainer
on his mobile 9791014147.
Send a mail to
ganapathy@msacademy.in
to register for the program.

Announcing 18 days 'Analytics with R' Online training program

In the last decade, the amount of data available to organizations has reached unprecedented levels. Data is transforming business, social interactions, and the future of our society. Analytics is the scientific process of deriving business insights from raw data to support decision making. MS Academy announces a world class business analytics + R language online training program delivered using GoToMeeting by 3 experts over 18 days .

In this course you will learn how to use analytical techniques and the R language to solve business problems in a number of fields like financial services, retail, FMCG etc. We will examine real world examples of how analytics have been used to significantly improve a business or industry. At the end of the course you will be able to demonstrate your business analytics skills to employers.

This course will be fully interactive with exercises and real world examples through which you will gain the knowledge to deliver an analytics project.

Introduction to Analytics
Basics of Statistics and Probability using Excel
CRISP-DM - Data mining methodology
Basic Commands in R
File/Data Processing in R - Read, Analyse, Impute and Transform
Importance of Visual Exploration
Use Case - Data Visualisation in R - plot, ggplot
Introduction to Linear Regression
Use Case - Perform regression to predict Sales of a manufacturing company
Introduction to Logistic Regression
Use Case - Perform Logistic Regression to predict default of a bank loan
Introduction to Trees and Random Forest
Use Case - Create Tree for a classification problem
Introduction to Clustering
Use Case - Create Cluster for movie recommendations
Recap


Karthik Sivasubramanian has over 18 years of IT experience. He has worked for financial industry predomintly in Life and Pensions Insurance for both US and UK based companies, including delivery and account management. He has vast experience in managing teams in the Onsite / Offshore model. His full profile can be viewed here Karthik will be supported by two more Analytics experts in conducting this program.


Key take away for different profiles

Technical Analysts: You will be able to work on R software and have the ability to read files, process and plot data, run regression models and provide reports to business/management team


Business Analysts: You will be able to ask the right questions and help define problem statements. Further you will be able to map the objectives to the data sources (internal, external) and create meaningful insights on your own with limited R exposure.


Project Managers: You will understand how to execute analytics projects, understand key constraints and hurdles that will have to be overcome as well as help taking decisions


Business Owner/Functional Lead: You will understand how analytics could be used to make a difference in your day to day operations, whether it is improved sales, reduced inefficiencies or improving customer satisfaction. This will also help identify key opportunities to make your function successful as well as pitfalls to avoid

'Analytics + R' Course Completion Certificate from MS Academy
Softcopy of the course material
Exercises and Case studies for you to practice
About Management Scholars Academy


MS Academy is founded with a mission

To instil the 'nuances in the art of management' and the 'formulas in the science of management' in project leads and thus develop outstanding managerial talent that helps Indian corporate excel in the global market. MS Academy can design and deploy an exclusive project management leadership program for your organization with measurable improvement in management competency. At the end of our program your PMs will be able to

- to manage the projects professionally and

- to handle clients, team members, senior management, shareholders and society with confidence

We will bring out the star managers dormant in your brilliant engineers and smart programmers.

MS Academy is the dream project of a set of successful IT professionals led by Ganapathy, sincerely interested in grooming future managers. They are grateful for the premier education they received, the rich management experience they gained, the wide international exposure they had, and the challenging projects they carried out. They are willing to share their learning and knowledge and motivate the next generation managers and executives to perform at a higher level.