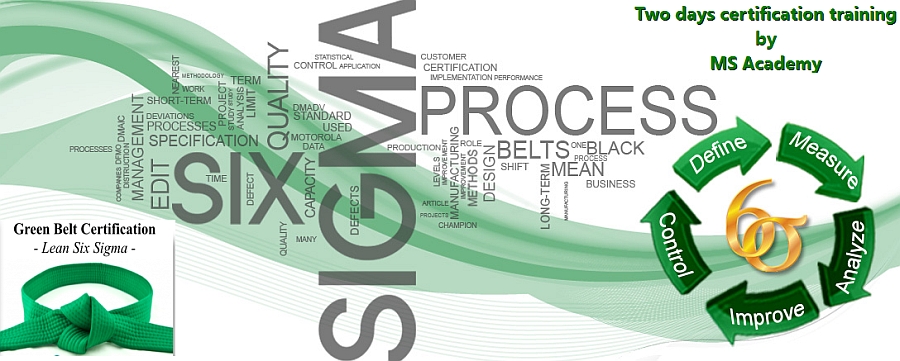 Date and Venue

PDUs

Course Fee

9:00 AM to 6:00 PM on
Mar 12th and 13th
at MS Academy office,
48-B Mangalam Apartments, Shivaswami Salai, Mylapore,
Chennai - 600004

PMPs / ACPs who attend
this program can claim
16 PDUs for certification renewal


Rs.7,500 / per seat
Rs.7000 / per seat
if you bring friends along.
Send a mail to
ganapathy@msacademy.in
for registration.

Do you have questions about
6 Sigma green belt? Attend
our Free 6 Sigma GB orientation
program on 21st or 28th Feb
at 6 PM in our Mylapore office.
Contact Ganapathy at 9840757994
for registration.

Announcing a two days Lean Six Sigma Green Belt Certification training program


Rapid advancement of technology and the globalization of economies over the last few decades have resulted in competitive markets for all the products and services. Companies are forced to improve the efficiency and the effectiveness of their processes continually in order to survive in this tough and ever changing market conditions. Motorola and GE, during the 1980s, developed Six Sigma methodology as a framework for process improvement through DMAIC approach. Over the last 3 decades, Six Sigma methodology has spread its wings in almost all areas of manufacturing and more recently has established its utility in service industry also. Currently there is a heavy demand for the people qualified in this methodology to lead the process improvement initiatives in the organizations.

MS Academy is proud to announce a 2 days 'Lean Six sigma Green Belt' training program in Chennai to be delivered by highly qualified and experienced six sigma experts.

In this training program you will learn how to use the Lean Six Sigma appraoch and the complex statistical tools to solve your process problems. You will get introduced to statistical software like Minitab. We will share many real world examples and case studies of how six sigma methodology is used to significantly improve a business processes. At the end of the course you will be able to demonstrate your problem solving skills to employer.

This course will be fully interactive with exercises and real world examples through which you will gain the knowledge to deliver a Lean six sigma green belt project.


Day 1

Define Phase:

Fundamentals of Six sigma
Y = f(x) thinking
Six sigma structure, DMAIC Approach
Introduction to lean
Project charter

Measure Phase:

Process Mapping and process capability studies
Basic statistics- Measure of central tendency, variation
Graphical tools –Run charts, Pareto chart, Box plots, Histograms, scatter plots
Introduction to Minitab software
Failure Mode and Effect Analysis (FMEA)
Measurement system Analysis (MSA)
Process Capability studies

Day 2

Analyze Phase:

Probability Distributions
Hypothesis testing – Normal data
Hypothesis testing- Non normal data
Sample size and sampling techniques
Introduction to DOE

Improve Phase:

Simple linear regression
Multi linear regression
Creative solution techniques

Control Phase:

Lean controls
Statistical Process control (SPC), Control charts
Control plans

A Certification examination with 100 questions (MCQ) will be conducted at the end of the course.Those who score above 75% will be issued the course completion and MS Academy Lean Six Sigma Green Belt Certificate

The program will be delivered by Annamalai C who is a B.Tech graduate from the prestigious Indian Institute of Technology, Varanasi and has over 30 years experience in process management. He has worked in Electronic component manufacturing and e-publishing domains both in production and quality. He is certified Six Sigma Black Belt from 2004 and is certified LSS Master Black Belt from the prestigious Indian Statistical Institute in 2014. He has vast experience in training and implementation of six sigma methodology both in the manufacturing and ITES sector. During the training, you will be exposed to a number of real life problems both in manufacturing and Service industries, where six sigma methodology was deployed to get significant improvements.

Annamalai will be supported by 3 more six sigma experts in conducting this program. If you would like to talk to Annamalai to get your doubts about the program cleared before registration, you can call him at 9940108037. The participants can be in touch with him, if they need any assistance from him for their projects in their professional career.

Key take away for different profiles

Project Managers / Supervisors: You will be able to take up process improvement projects using 6 sigma and save substantially. You will be able to solve chronic technical / quality problems applying DMAIC cycle.


Members of quality teams from any industry: You will be able to assist functional managers to solve practical problems using 6 sigma and bring substantial savings.


Business Owners / Managers / Functional Heads: Opportunity for learning key quality concepts and statistical tools that will help in driving quality improvement programs in your organization. You will understand how to execute six sigma projects, understand key constraints and hurdles that will have to be overcome. Stepping stone for getting the Black Belt certification.



100 Questions LSSGB certification exam after a 100 Q mock test
Lean Six Sigma Green Belt Certificate from MS Academy
Assistance to PMPs / ACPs to claim 16 PDUs
Softcopy of the course material (PPT)
Lunch and refreshments during the course


About Management Scholars Academy


MS Academy is founded with a mission

To instil the 'nuances in the art of management' and the 'formulas in the science of management' in project leads and thus develop outstanding managerial talent that helps Indian corporate excel in the global market. MS Academy can design and deploy an exclusive project management leadership program for your organization with measurable improvement in management competency. At the end of our program your PMs will be able to

- to manage the projects professionally and

- to handle clients, team members, senior management, shareholders and society with confidence

We will bring out the star managers dormant in your brilliant engineers and smart programmers.

MS Academy is the dream project of a set of successful IT professionals led by Ganapathy, sincerely interested in grooming future managers. They are grateful for the premier education they received, the rich management experience they gained, the wide international exposure they had, and the challenging projects they carried out. They are willing to share their learning and knowledge and motivate the next generation managers and executives to perform at a higher level.